Fiber Optics in MIL-DTL-38999 Series III Connectors


Amphenol Aerospace offers a wide range of fiber optic interconnect solutions for use in the harsh environments experienced in military and aerospace applications. Amphenol Aerospace has established the rugged and reliable MIL-DTL-38999 as a common connector shell platform that houses a wide variety of fiber optic termini including MIL-PRF-29504*, HD20, ARINC 801 and MT ferrules.


MIL-DTL-38999 Series III Tri-Start connectors are available in various insert arrangements, materials and finishes to meet any type of environmental requirement. Our MIL-PRF-29504 and HD20 termini can be combined with most of our copper contacts to create a large assortment of hybrid fiber/copper connector combinations.


Amphenol's newest offering of fiber optic products is the ARINC 801 series of connectors and termini. Adopted by the commercial air market, the ARINC 801 insert is incorporated into the D38999 Series III shell and it is a fiber optic focused interconnect solution.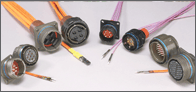 38999 Series III, MIL-PRF-29504 Multi and Single Mode Termini
MIL-DTL-38999 Series III is the proven, high performing cylindrical connector for precison optics to provide reliable, secure and high speed transfer of data signals.


Composite shells provide lighter weight and corrosion resistance; other materials and finishes include aluminum, OD cadmium, electoless nickel and stainless steel shells.

New and improved tight tolerence designs enhance optical performance through:

Berylium-copper retention clip for improved termini stability
Precision-aligned inserts
Modified master key
Integrated wave washer for improved performance in high vibration environments

Fiber Optics in Rectangular Connectors


Amphenol is uniquely qualified to design and manufacture a wide range of rectangular connector products containing MIL-PRF-29504, HD20, MT Ferrule Fiber Optic Termini and ARINC 801 Termini. Please select rectangular connector with termini from the drop down box above.

Fiber Optics in Backplane




High Density, ruggedized, board-to-board backplane interconnects with MT Fiber Optic ferrules or electrical/optical transmission combined
12 or 24 fiber lines per ferrule

Rack and Panel Connectors with ARINC 801 Termini




ARINC 600, used in many avionic applications, can have combinations of low insertion force contacts with ARINC 801 termini
R27 and R58 high performance rectangular series can have combinations of copper contacts and ARINC 801 termini

Fiber Optic Custom Cable System




Custom-engineered to meet demanding military environments
100% inspected for insertion loss, visual defects and termini end-face geometry
完整型錄

完整型錄
完整型錄